Driving Without License Plate Establishes Reasonable Suspicion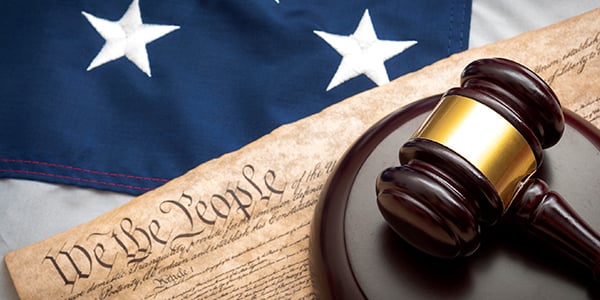 In Nebraska, the fuzz can stop a vehicle for tooling about town without license plates. Even if the vehicle has a Nebraska In Transit sticker, the cops can demand the driver's license and registration.
If the driver can't produce a valid license, it's game over, according to the Eighth Circuit Court of Appeals. Without a validly-licensed driver on hand, the police could impound and search the vehicle.
But wait, there's more.
Defendant Anthony Hollins was a passenger in an SUV that had no license plates when Omaha police spotted the SUV, noticed the lack of license plates, and stopped the vehicle. An officer saw what appeared to be a valid In Transit sticker, on the vehicle -- in Nebraska, an In Transit sticker may replace a license plate for 30 days after the purchase of a vehicle -- but he didn't verify its expiration date.
The officer's experience with phony In Transit stickers had taught him to verify them, so he asked the driver for his license, insurance card, and registration. After discovering that the driver's license was suspended, and there were two outstanding arrest warrants, the officer arrested the driver.
The driver released the SUV to Hollins, so another officer checked whether Hollins had a valid driver's license. Hollins, unfortunately, did not. Before impounding the vehicle, the officers conducted an inventory search, finding a .380 pistol underneath the center console. Hollins, a previously convicted felon, was arrested.
Hollins moved to suppress the firearm, arguing that because the SUV had a valid In Transit sticker, the officer lacked probable cause or reasonable suspicion to stop the SUV. Even if the officer was reasonably mistaken in believing there was a traffic violation, Hollins claimed that any reasonable suspicion vanished when the officer saw the In Transit sticker. After that point continuing the stop violated Terry v. Ohio, and all the evidence should be suppressed.
The Eighth Circuit Court of Appeals didn't buy his argument.
When the officers observed and stopped the SUV, it didn't have license plates, and they couldn't see the In Transit sticker. Vehicles without license plates or In Transit stickers are illegal in Nebraska. Although the officers were mistaken about the SUV's registration status, their actions were objectively reasonable because they could not then see the In Transit sticker initially. The officers had a reasonable suspicion for a traffic stop.
The Eighth Circuit Court of Appeals further reasoned that "a reasonable investigation following a justifiable traffic stop may include asking for the driver's license and registration." Therefore, the initial traffic stop and the officer's limited inquiry -- which led to the search and Hollins' arrest -- were constitutionally valid.
The law generally favors the cops in a traffic stop. If the cops catch your client ridin' dirty in a similar traffic stop kerfuffle, look for a plea bargain or a different loophole.
Related Resources:
Content for You