Massachusetts Supreme Court Hears Pledge of Allegiance Challenge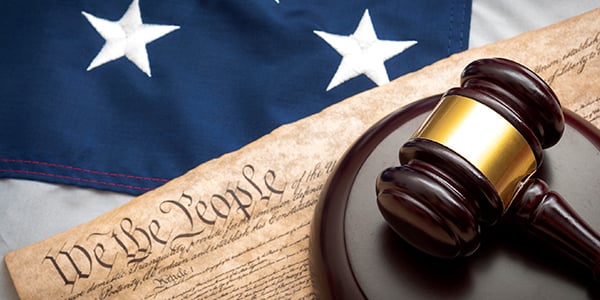 The Massachusetts Supreme Judicial Court will soon revisit the constitutionality of the pledge of allegiance. A family from Boston is arguing that the words ''under God'' in the pledge discriminate against atheists.
But do they really have a case?
A New Approach: Equal Protection
The pledge of allegiance is usually challenged as violating the Establishment and Free Exercise Clauses. But the couple in this case are taking an unorthodox approach and bringing their claims under an Equal Protection theory, reports The Associated Press.
The plaintiffs are arguing that the pledge's use of "under God" violates the Equal Rights Amendment of the Massachusetts Constitution because it discriminates against atheists.
Equal Protection Issues
One major equal protection obstacle for the family is the U.S. Supreme Court's long-held precedent that recitation of the pledge is voluntary.
''There is no religious bias in the statute,'' Geoffrey Bok, an attorney for the Acton-Boxborough Regional School District, told the AP. According to Bok, there's no actionable bias because the pledge is not mandatory and students can opt out by either leaving out the reference to God or by not reciting the pledge.
A separate issue the state's highest court will have to sort out is whether the pledge has maintained its religious roots. Has the phrase "under God" evolved into more of a political philosophy than a religious declaration, as Eric Rassbach of The Becket Fund for Religious Liberty claimed to the AP?
The lower court was a "believer" of the political philosophy rationale.
Judge S. Jane Haggerty ruled that the words ''under God'' in the pledge did not violate state law or the school's anti-discrimination policy because including ''under God'' in a voluntary patriotic exercise does not ''convert the exercise into a prayer.''
Indoctrination and Unpatriotic "Omitters"
Yet, there is something to be said about indoctrination in school. Like anyone else, you remember the pledge of allegiance like the back of your hand. Our Pavlovian relationship with the pledge is due in large part to rote memorization and years of repeatedly uttering it at school.
Given the sense of belonging shared language gives us at school, at the Olympics, and beyond, it's not unfathomable for atheists to feel as though the inclusion of "under God" in the pledge is discriminatory indoctrination that has the effect of alienating non-believers.
Still, the family's case is a tough call, since leaving out the reference seems like a satisfactory alternative -- that is, unless "omitters" end up being labeled as unpatriotic.
We'll just have to wait and see whether "under God" omitters' alienation rises to the level of legally cognizable discrimination. A decision is expected to come out in about six months.
Related Resources:
Content for You