Counterfeit Ringleaders Lose Louis Vuitton Infringement Appeal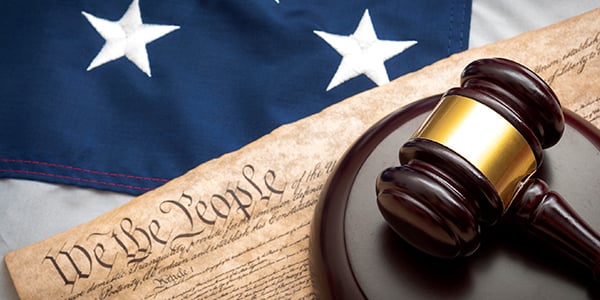 The Second Circuit Court of Appeals has no sympathy for counterfeiters, probably because the court is located close to the Canal Street counterfeit corridor. (The mumbled chorus of "Prada, Gucci, Louis Vuitton" promises en route to the subway gets old quickly.)
Thursday, the circuit upheld a $3 million infringement lawsuit judgment against the proprietors of one of the largest counterfeiting rings in the U.S., finding that the district court did not err in permitting overlapping civil and criminal trials against the defendants.
Louis Vuitton sued the defendants, (LY USA, Inc., CoCo USA Inc., Marco 30 Leather Goods, Ltd., Chong Lam, and Joyce Chan), in federal court for counterfeiting and infringement of their trademarks. Louis Vuitton won, and the district court hit the defendants with the multi-million dollar judgment and $500,000 in attorney's fees in 2008. The defendants appealed the court's decision, arguing in part that the court should have stayed the infringement lawsuit pending the outcome of the related criminal matter.
The Second Circuit Court of Appeals disagreed.
A district court may defer civil proceedings against a defendant pending the completion of parallel criminal prosecutions, but it is not required to do so. The Supreme Court ruled in Clinton v. Jones that a person seeking a stay "bears the burden of establishing its need." A plaintiff, however, should not be delayed in its efforts to pursue its claim unless there is "a showing of undue prejudice upon the defendant or interference with his constitutional rights." Staying a civil matter until the conclusion of a criminal matter is considered an "extraordinary remedy."
The defendants argued that the district court erred in denying the stay because the court did not give sufficient weight to the consequent impairment of the indicted defendants' Fifth Amendment privilege against self-incrimination, and because it failed to consider the practical difficulties of defending simultaneous criminal and civil proceedings. While that argument may have had merit -- the defendants lost both their civil and criminal trials -- it did not amount to reversible error.
While the Second Circuit acknowledged that there were factors in the defendants' case to support a stay, those factors were not enough to prove an abuse of the district court's discretion. Ultimately, the Second Circuit says that a decision "so firmly within the discretion of the district court will not be disturbed ... absent demonstrated prejudice so great that, as a matter of law, it vitiates a defendant's constitutional rights or otherwise gravely and unnecessarily prejudices the defendant's ability to defend his or her rights." Such was not the case here.
Government crackdowns on counterfeit rings are becoming more common, and luxury goods manufacturers are actively enforcing their intellectual property rights through infringement lawsuits. If you have a client who is defending parallel criminal and civil claims, consider asking the court for alternative forms of relief, such as tailored stays, protective orders, quashing or modifying subpoenas, sealing confidential material, or even a motion for a stay in response to specific impositions.
Related Resources:
Content for You