Exigent Circumstances? Curtilage Analysis Unnecessary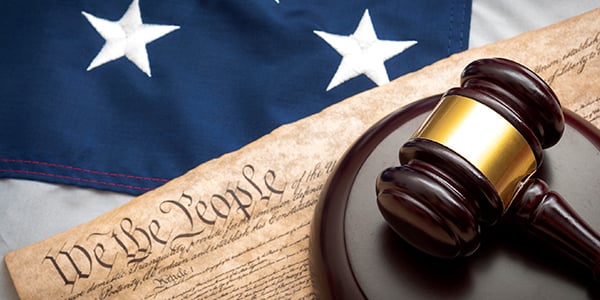 There's been a lot of talk about search and seizure lately, thanks to the recent Supreme Court dog sniff searches case. While the Nine are tasked with deciding whether Americans have a right to privacy regarding their illegal activities, the appellate courts are still considering the classic Fourth Amendment issue: curtilage.
This week, the Seventh Circuit Court of Appeals reminds us that exigent circumstances trump curtilage rights in Fourth Amendment claims.
On to the facts.
Two Milwaukee cops heard a series of gunshots while responding to a call. Over a dozen officers arrived in the neighborhood to investigate and interview witnesses; within an hour, they learned that a person had been shot in the leg nearby, and was in the hospital.
John E. Schmidt, Jr. lived in a duplex in the neighborhood. The duplex shared a yard with the adjoining unit. The front and back of this two-duplex plot were almost entirely enclosed by chain-link fences with "No Trespassing" signs on them, along with chain-link gates, though a small corner of the yard was blocked by a wooden fence.
One of the investigating officers approached the two-duplex complex from the back alley. He noticed bullet holes in a car parked on a concrete slab adjacent to the backyard and bullet holes in one of the neighboring units. He also noticed a trail of about nine spent casings on the ground, including five casings right next to a nearby duplex and one casing within the yard. The chain-link gate on the back alley side was open that night, and the officer, without a warrant, entered the backyard and panned the area with his flashlight.
Inside the yard, the officer saw the scope and breech of a firearm, with a blue Tupperware lid covering the stock of the firearm.
Though he initially believed that he was looking at a pellet or BB gun, the officer discovered that it was a .308 Winchester rifle after he lifted the Tupperware lid and pushed the grass aside.
Schmidt, who was charged with being a felon in possession of a firearm as a result of the cop's backyard entry, moved to suppress the search. After conducting an evidentiary hearing, the magistrate judge found that while the backyard was curtilage, Schmidt did not have a reasonable expectation of privacy there.
While Schmidt and the feds vigorously disputed whether the shared backyard constituted curtilage -- and, if it is not curtilage, whether Schmidt had a reasonable expectation of privacy in that area -- the Seventh Circuit said it was unnecessary to resolve the curtilage question because the officer's warrantless entry into the backyard was justified by exigent circumstances, and his seizure of the rifle was justified by the fact that its scope and breech were in plain view.
Related Resources:
Content for You