The Scopes 'Monkey' Trial, 90 Years Later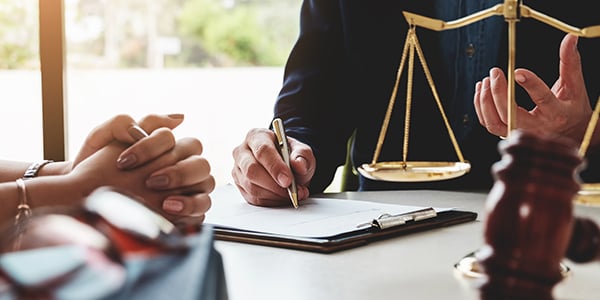 Ninety years ago today, John T. Scopes, a substitute teacher in Datyon, Tennessee, was arrested for teaching the theory of evolution, in violation of a recently passed state law. His case, the Scopes "Monkey" Trial, was the first "trial of the century." It pitted two great lawyers against each other -- William Jennings Bryan, a frequent presidential candidate and senator known for his religious conviction, verses Clarence Darrow, an openly agnostic and widely celebrated defense attorney.
The high profile of the lawyers and the controversial nature of the law turned the trail into a media circus. Which is exactly what was wanted. The trial was organized as a test case by the recently formed ACLU. Scopes lost, but through the suit, the ACLU was able to capture the attention of the public and shape a debate which continues to this day.
Even the Best Laid Plans ...
For how well known the Scopes Trial is, you would think it had been a success. But it wasn't, at least not legally. Not only was Scopes convicted, but the ACLU's original argument was largely abandoned.
The ACLU had set out to challenge the reasonableness and constitutionality of the law itself. Scopes was largely a placeholder. That legal tactic was undermined at several points. Unsurprisingly, the judge reminded the jurors that their job was not to evaluate the merit of the law, but simply to determine whether it had been violated.
The ACLU's initially planned tactic was also largely abandoned by Darrow. As the trial progressed, Darrow focused not on the constitutionality of the law, but on undermining the view that the religion and science were incompatible. In one of the most famous moments of the trial, Darrow called Bryan, counsel for the prosecution, to the stand to question him on his literal interpretation of the Bible. It was a stunt that brilliantly highlighted the clashing world views at play in the trial -- but it did little to actually support the defense's case. The judge had already ruled that evidence regarding the Bible was irrelevant.
It wasn't until appeal that the ACLU reasserted its argument that the law unconstitutionally benefited a specific religious group.
Movement Lawyering Can Change the Debate
The ACLU and Darrow had originally planned on calling a slew of expert witnesses to show that the law was irrational and unconstitutional. The judge allowed them one. Many of the arguments the defense had planned on presenting through experts were presented directly by the lawyers themselves. Dudley Malone, one of the defense lawyers, argued what they had planned to present as evidence -- that religion should not intrude into the secular realms of education and science.
His speech worked, at least in framing the larger issues playing out in the trial. The argument presented by Malone and the ACLU influenced debates around evolution and the role of religion in society for generations.
It is a discussion we are still having today.

Related Resources:
Content for You