What Is Blockchain? A Lawyer's Guide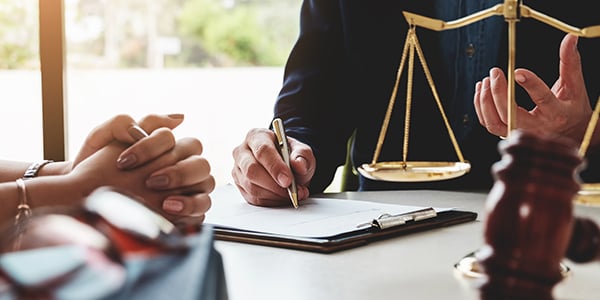 Blockchain technology is set to transform industries and institutions throughout the world. What started as an idea synonymous with Bitcoin, the virtual currency, is now making its way into everything from contract drafting, to election monitoring, to land registry systems.
So what is this revolutionary technology and what do lawyers need to know about it? Thankfully, there's now an answer, in the form of a Blockchain guide for people just like you.
Lawyers, Meet Blockchain
The new book, "The Blockchain: A Guide for Legal and Business Professionals," published by Thomson Reuters (disclosure: Thomson Reuters is FindLaw's parent company), promises that "no prior experience with blockchain technology is necessary" to get started. But here's a quick primer before you dive in. Blockchain is a technology that creates a decentralized, digital ledger that encrypts, registers, and verifies transactions, essentially making a public (or private, if you want) record of transactions, stored on thousands of different computers.
That means that each "node," or participating computer, in the blockchain network can record and verify transactions, making fraud incredibly difficult and reducing the need for centralized institutions or actors.
Here, maybe this video can help explain:
So What's That Mean for Attorneys?
Blockchain has plenty of potential impacts for lawyers, the law, and business generally. One of the most obvious examples, outside of cryptocurrencies, is smart contracts. These are contracts that use the blockchain to implement themselves automatically. Those contracts can be coded and recorded in the blockchain and executed, without human intervention, when the proper conditions are met. Such contracts are already being used in the financial industry, accounting, supply chain management, healthcare, and more.
Smart contract use has important legal implications, not just because drafting a smart contract requires significant computer coding, rather than simply referring to "the party of the first part." As "The Blockchain: A Guide" notes, smart contracts implicate everything from choice of law issues, notarization, and federal electronic transactions and money laundering laws.
Of course, blockchain's legal implications aren't limited to contracts. "The Blockchain: A Guide" surveys several other important areas that are emerging, from blockchain protocols, to the roles of decentralized autonomous organizations, to management issues. Written by three partners at Holland & Knight, Shawn S. Amuial, Joe N. Dewey, and Jeffrey R. Seul, all experts in blockchain and the law, this guide is an essential resource for lawyers who want to familiarize themselves with blockchain, whether they simply want to know the basics or are looking for a detailed explainer on some of blockchain's most complex issues.
Related Resources:
Content for You