Partisan Fighting Threatens Supreme Court, Chief Justice Warns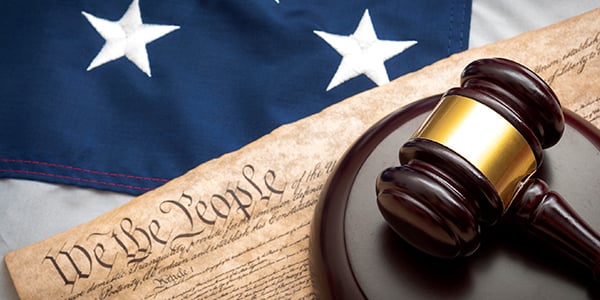 Ever since the passing of Justice Antonin Scalia, the Supreme Court has seen itself caught in the middle of a partisan tug-of-war over the future of the Court. First, Senate Republicans blocked any consideration of Merrick Garland, refusing to hold even one hearing on President Obama's nominee. Then, Democrats filibustered Neil Gorsuch's confirmation vote, leading the Senate to "go nuclear" in order to get Gorsuch on the Court.
For the branch of government that must view itself as above the political fray, the battle was jarring. And it could threaten the future of the Court, according to Chief Justice Roberts.
Court Remains "Completely Nonpartisan," Roberts Assures
The chief justice expressed his concerns over the recent confirmation battle when speaking at Rensselaer Polytechnic Institute yesterday, the Washington Post reports. During a Q&A, RPI President Shirley Ann Jackson brought up the "extremely partisan confirmation process."
First, Chief Justice Roberts noted, the political feuding hadn't bled into the Supreme Court itself. "I want to point out one thing," he began, "that throughout this whole process, the Supreme Court has been quietly going about its business of deciding the cases before it, according to the Constitution, in a completely nonpartisan way."
Nothing about that was going to change, he said. "We've done it for the past 14 months with one vacancy, and we'll do it going in the future now that we have a full complement."
Partisanship Pollutes Public's Perception
But the Court's ability to continue its work and to avoid partisanship thus far is not something to take for granted. Even if partisanship doesn't infect the Court itself, it can taint the public's view of the Court, the chief justice explained, undermining the Court's role as a neutral arbiter of the law.
"It is a real danger that the partisan hostility that people see in the political branches will affect the nonpartisan activity of the judicial branch," Roberts said.

It is very difficult I think for a member of the public to look at what goes on in confirmation hearings these days, which is very sharp conflict in political terms between Democrats and Republicans, and not think that the person who comes out of that process must similarly share that partisan view of public issues and public life.
Such a perception of the Court would not be accurate, Roberts explained. When a new justice joins the Court, he "is not a Republican, not a Democrat, he is a member of the Supreme Court. But it is hard for people to understand that when they see the process that leads up to it."
For the latest Supreme Court news, subscribe to FindLaw's SCOTUS Newsletter.
Related Resources:
Content for You